About this episode
Adam Gidwitz (A Tale Dark and Grimm, The Inquisitor's Tale) talks about his journey to finding truth through literature and how he found his own voice to tell the truths he's learned.
"The world is so complex, right? No theory that anyone has can be accurate because the only accurate model of the world is the world. There are too many complexities. … And so what literature does is it catalogues the unique and particular truths of the world and a really great writer, a Jane Austin, Chekhov, Kate DiCamillo, will take one of those truths and reveal it to you in a narrative way that's just so deeply satisfying." - Adam Gidwitz
As a young adult, Adam Gidwitz was on a hunt for the truth. He searched in philosophy and religion, but eventually found literature to be the ultimate source for the small truths this world can provide. Despite being a natural storyteller since childhood, Adam didn't understand view himself as a writer. It wasn't until he was a teacher and began writing to entertain his students that he saw this potential in himself.
After finding success in
A Tale Dark and Grimm, The Inquisitor's Tale,
and various other stories, Adam is preparing to release a new children's novel that will dive into a monstrous setting to tell a particularly hard truth: bad people are still human, and their motivations are endless. In today's episode, he joins to share more about his approach to telling this story, how he found his unique voice and why he believes fiction is the best vehicle for learning about the world.
Chapter 1 - Writers Don't Always Write (2:36)
Chapter 2 - Adam's House (5:10)
Chapter 3 - Slow and Steady (9:36)
Chapter 4 - The BFG (12:15)
Chapter 5 - Not Johnny Tremain (17:10
Chapter 6 - Discovering Truths (22:06)
Chapter 7 - Thinkers, Poets, and Monsters (26:39)
Chapter 8 - I Wish I Was Cast As… (31:37)
Chapter 9 - Grimmly Ever After (32:49)
Chapter 10 - Beanstack Featured Librarian (34:17)
Adam's Reading Challenge
Download the free reading challenge worksheet, or view the challenge materials on our helpdesk.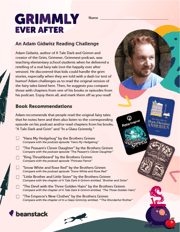 .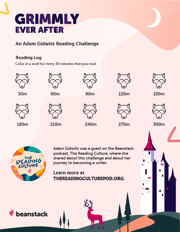 Links: