About this episode
Author of the "Prophecy" and "Spirit Hunters" series and the founder of We Need Diverse Books, Ellen Oh is equal parts no-nonsense and hilarious truth-teller.
"We all know the importance of representation in books and how life-affirming it can be for those who are historically underrepresented. Books are powerful. There's a reason for all this book banning. Books are more important than ever." - Ellen Oh

As a child, Ellen Oh craved justice. Growing up as a Korean-American in New York City, discrimination was all around her. Public libraries became her safe haven, a place to escape and let her imagination wander. They even helped her reconnect her with her culture through the long-loved Korean tradition of horror novels. After becoming a parent, Ellen chose to use her voice to give stories to those same underrepresented children.
On this episode, Ellen joins us for a live conversation at the 2023 ALA LibLearnX conference in New Orleans to share more about how racism and social injustice inspired writing. She'll speak about growing up with racism in the classroom, 'soft censorship' and the recent classroom book-ban conflict, and how she co-founded "We Need Diverse Books" to support diversity in children's literature.
Chapter 1 - The library a.k.a the babysitter
Chapter 2 - Spreading the horror
Chapter 3 - Don't Feed the Tiger
Chapter 4 - The Joy Luck Club
Chapter 5 - We Needed "We Need Diverse Books"
Chapter 6 - Soft censorship
Chapter 7 - What can you do?
Chapter 8 - The power of a librarian
Chapter 9 - You Are Here: Connecting Flights
Chapter 10 - Books Save Lives
Chapter 11 - Listener Questions
Ellen's Reading Challenge
Download the free reading challenge worksheet, or view the challenge materials on our helpdesk.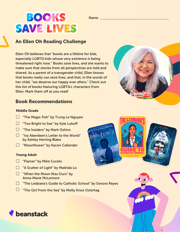 .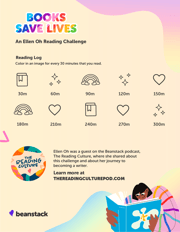 Links: