About this episode
Newbery Award-winning author Erin Entrada Kelly ("Blackbird Fly," "Hello, Universe," "We Dream of Space") discusses her favorite books growing up, her path to youth literature, and why she believes kids are not 'incomplete vessels.'
"A lot of my books have characters who are lonely, who are trying to figure out their way, who don't feel seen in the world, who don't know how to use their voice. I want to write books for those kids because I want a safe way for them to navigate all that stuff." - Erin Entrada Kelly

Erin Entrada Kelly was a lonely child. As an introvert battling depression and bullying, it was easy for her to feel overlooked by those around her, but she found her solace in reading and finding uniquely relatable characters. Not those she shared outward similarities with, but those she was able to empathize with on an emotional level.

Inspired, Erin also began to write her own stories, –something that allowed her to build her own world, her own identity, and provide her with that outlet and sense of control she never felt she had.


Erin's admiration for these complex characters and an unrelenting dream of being a writer pushed her into the world of youth literature. Her ability to understand and convey the perspective of vulnerable, unseen children in her writing has found her a closely-bonded, communal audience.
This episode's Beanstack featured librarian is Erin Bechdal, a middle and high school librarian at Beaver Area School District in Pennsylvania. She'll tell us about her go-to author recommendation for students.
Chapter 1 - The Unseen Child
Chapter 2 - Born Writing
Chapter 3 - Hurricane Child
Chapter 4 - Short Stories, Long Journey
Chapter 5 - Incomplete Vessels
Chapter 6 - A 200-person hug
Chapter 7 - Out-of-place (and time)
Chapter 8 - Here to There
Chapter 9 - Beanstack Featured Librarian
Author Reading Challenge
Download the free reading challenge worksheet, or view the challenge materials on our helpdesk.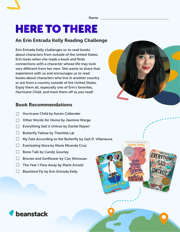 .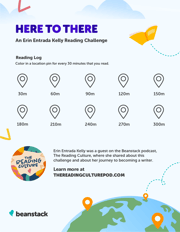 Links: