About this episode
Grace Lin (The Year of the Dog, Where the Mountain Meets the Moon) shares her thoughts on the value art provides to those who experience it and those who create it, and how it contributes to getting us in touch with our own humanity.
" Creating something is not just for people to view, but it's for the creator. It's that idea that when you create, it puts you more in touch with your humanity and that being in touch with your humanity is what you are giving through your artwork. " - Grace Lin

For Grace Lin, the value in literature comes from its ability to allow you to understand other humans and get in touch with your own humanity. But this value isn't just from reading. As a writer, she recognizes the change that the artist goes through in the process of creating. In her own experience, the process of writing has allowed her to understand and feel comfortable with her Asian-American identity, which in turn has helped her in making content for other young Asian-Americans who are struggling in the same ways she used to.
It's these experiences and understandings that have contributed to her passion for keeping humanity in writing and fighting for that access. That's why she has so eloquently spoken about the importance of reading other perspectives despite potential initial discomfort in her apt metaphor of putting on a new pair of glasses. In this episode, she'll take us through all of that and more.
Chapter 1 - ThE LeEtal hOuSe
Chapter 2 - Bees for Betsy, but not for Grace
Chapter 3 - For those to come
Chapter 4 - The Search for Delicious
Chapter 5 - The thousand-dollar dandelion
Chapter 6 - New Glasses
Chapter 7 - The art of effort
Chapter 8 - Chinese Menu
Chapter 9 - New Faces, Familiar Places
Chapter 10 - Beanstack Featured Librarian


Grace's Reading Challenge
Download the free reading challenge worksheet, or view the challenge materials on our helpdesk.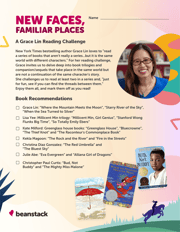 .
Links: