About this episode
Author of the popular series "City of Spies" and "Framed!", James Ponti shares the movies that influenced him, how locations inspire his work, and his transition from movies and television to kidlit.
"I go to the locations in the books when I can, and I go there and I scouted them when I was shooting documentaries. I'll kind of walk around the same way I did for years producing television to really figure out the best way to take advantage of a location." - James Ponti

As a child, James Ponti was not a reader. Instead, he discovered an interest in storytelling through film. James' mother's own love for movies, coupled with her artistic career piqued his curiosity about the life of a creative. Throughout his 25 years of experience in visual media, James continued to master his understanding of storytelling techniques, characters, and worldbuilding. Additionally, location scouting for the screen would go on to inspire some of the backdrops for his most famous works.


James' unique perspective from his start in visual storytelling allowed him to become the immersive, illustrative author that he is today.
This episode's Beanstack featured librarian is Kathleen Durant, the Librarian at Camden Middle School in Kershaw County, South Carolina. Listen to the end to hear her creative use for The Wheel of Names!
Chapter 1 - The Great Escape (1:46)
Chapter 2 - All The President's Men (4:43)
Chapter 3 - Santa's Slay '79 (6:21)
Chapter 4 - On The Hospital Floor (8:38)
Chapter 5 - From the Mixed-Up Files of Mrs. Basil E. Frankweiler (12:25)
Chapter 6 - In Good Company (24:37)
Chapter 7 - Co-Conspirators (28:04)
Chapter 8 - Mystery Author (31:33)
Chapter 9 - Beanstack Featured Librarian (33:01)
Author Reading Challenge
Download the free reading challenge worksheet, or view the challenge materials on our helpdesk.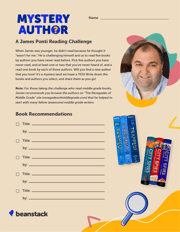 .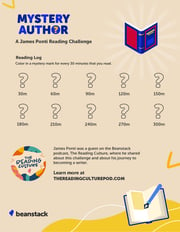 Links: