About this episode
Kwame is best known "The Crossover," "Booked," "The Door of No Return," and numerous other novels and poetry collections. He also recently authored his memoir "Why Fathers Cry at Night." He has received a Newbery Medal and Coretta Scott King Book Award among many other awards, and this year "The Crossover" was adapted into a Disney Plus original TV series.
"I'm just being real. I'm telling my story. I think Nikki Giovanni calls it dancing naked on the floor. I am unafraid and I'm doing my dance… I don't feel like I can go wrong if I'm just being me." - Kwame Alexander
Getting reluctant kids to read is one battle, getting them to think reading is
cool
is another. Kwame Alexander excels at both. His ability to authentically relate to his readers is a skill his career has built around.
In educational circles, Kwame's work is regarded as essential, especially for young Black boys. He has achieved a level of engagement with this demographic that many writers find challenging to attain. But his impact extends beyond just an introduction to books, he also opens the door for readers to explore their own emotional depths. As he tells us, "I think part of my job is just to show a different side of masculinity."
In this episode, he tells us about his own upbringing surrounded by Black storytelling and literature, he reveals his secret to making middle-schoolers think he's "cool", and we'll hear about a letter he received (which was "not fan mail") that inspired a surprise visit to an unsuspecting kid.


***



***


In his reading challenge,
Blackout
,
Kwame wants listeners to utilize their favorite books to look inward and make some art of their own.
This episode's Beanstack Featured Librarian is Kirsten Weaver, the programming specialist for the
Indianapolis Public Library
. She shares some heartwarming stories about a book club she runs for teens at a residential treatment facility.
Chapter 1 - Glasses first
Chapter 2 - Mom's stories, dad's garage
Chapter 3 - Love After Love
Chapter 4 - The "Reluctant" Readers
Chapter 5 - Kwame Shows Up
Chapter 6 - America's Next Great Authors
Chapter 7 - Blackout
Chapter 8 - Beanstack Featured Librarian
Author Reading Challenge
Download the free reading challenge worksheet, or view the challenge materials on our helpdesk.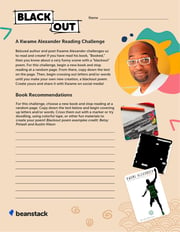 .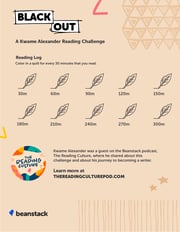 Links: