About this episode
In our Halloween Special, Lamar Giles (Fake I.D, The Last Last Day of Summer) talks about how horror helps him cope with his anxieties, and why he believes in the power of the genre for young readers.
"The fear is like the ramp on the roller coaster. It's that build-up of adrenaline intention that you're having in that moment when that roller coaster is cranking. It's not the same fear of you walking through a dark alley at night and you sense someone's behind you in real life. That's a different type of fear that I don't know that anybody really wants. This is controlled fear. This is me going into it saying, Okay, I know this part's gonna be scary, but this part's gonna be fun and I want all of it."

- Lamar Giles
Lamar Giles says horror is a pressure valve. It has the ability to release pent-up anxiety and fear in a controlled, safe, and fun environment. That's why he'll watch
Hellraiser
at 4 a.m. to comfort himself when he can't sleep. While the genre isn't for everyone, he knows there are other young readers that will resonate with it the same way he did when he first read Stephen King at 11 years old.
Giles' career has been full of mystery and thriller stories, but with the 2022 release of
The Getaway,
he has finally fulfilled his lifelong dream of writing a true horror novel. He tells us more about how the genre has helped him in his life and why he thinks kids resonate with his writing.
Chapter 1 - Growing Up as Lamar Giles (2:18)

Chapter 2 - The Dinosaur in the Cereal Box (6:50)
Chapter 3 - The Draw to Horror (7:26)
Chapter 4 - It (8:32)
Chapter 5 - The Pressure Valve (12:56)
Chapter 6 - Connecting with Young Readers (16:25)
Chapter 7 - Writing Black Characters (17:21)
Chapter 8 - Publishing Horror (19:21)
Chapter 9 - The Getaway (21:09)
Chapter 10 - A Vehicle for Social Commentary (23:01)
Chapter 11 - Fear On Screen (24:12)
Chapter 12 - Scary Good Stories (26:20)
Chapter 13 - Beanstack Featured Librarian (26:55)
Lamar's Reading Challenge
Download the free reading challenge worksheet, or view the challenge materials on our helpdesk.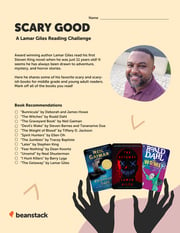 .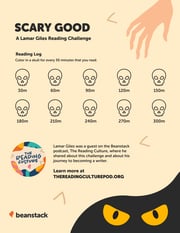 Links: