About this episode
Meg Medina (Merci Suárez series) talks about the role storytelling plays in her life, from writing to passing on her culture to the fight against book bans.
"I feel like writers, especially who are wordsmiths, who can name things, tricky things in clear ways ... should be where we put our efforts. Really creating an offensive, an offense in this campaign to win the hearts back."- Meg Medina
Meg Medina's passion for telling stories goes back as far as she can remember. Crafting words into lessons and engaging experiences has always been her calling, but it took her a few careers to fully dive in. Now, she's a Newbery Award-winning children's author, best known for her Merci Suárez trilogy.
In this episode of The Reading Culture, she joins to share her thoughts on the craft of storytelling. Meg talks about the power of storytelling to pass on the knowledge of tradition and to share experiences. She also talks about the increase in book bans and challenges and why she believes leaning into the gift of storytelling will help authors and the industry create the ultimate offense.
Meg has also developed a reading challenge called "Girls in Motion," in partnership with Beanstack, for listeners and Beanstack partners. For the challenge, Meg curated a diverse list of stories featuring athletic girls facing various life challenges. You can hear her talk more about it in the episode and see the details and full list of books here.
Contents
Chapter 1 - Meg's Beginnings as a Writer (2:00)
Chapter 2 - Telling Her Own Story (8:35)
Chapter 3 - "Letters of E.B White" (11:14)
Chapter 4 - Reading to Be Human (16:12)
Chapter 5 - On Visiting Schools (20:27)
Chapter 6 - Storytelling to Fight Book Bans (21:55)
Chapter 7 - Saying Goodbye to Merci Suárez (27:55)
Chapter 8 - Girls in Motion (32:48)
Chapter 9 - Beanstack Featured Librarian (35:01)
Meg's Reading Challenge
Download the free reading challenge worksheet, or view the challenge materials on our helpdesk.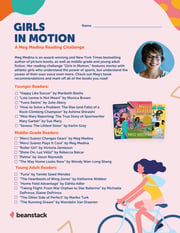 .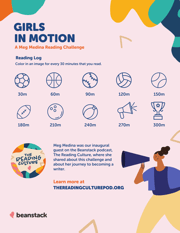 Links