About this episode
In this episode, M.T. takes us on his own journey to embracing these genres as a writer, he talks about the growing relevance of their ability to offer societal critiques and representation in the increasingly hostile censorship movements, and he tells us about his new story where he uses a new perspective to learn about the world (his dog's).
"If you write about the world as it is, there's too much of a danger of it just feeding into our assumption that everything that we live with is right and normal. Whereas if you start to say, well wait, let's project this into the future, or let's see where this comes from in the past, suddenly it opens up a whole new vista about what the present is doing." - M.T. Anderson

M.T. Anderson's home in small-town Vermont is rumored to be haunted and he relishes the ghost stories told about it. Despite his analog lifestyle and lack of belief in the paranormal, he spends a lot of his time dreaming up sci-fi and fantasy adventures. Aside from just being fun, he considers the genre to hold a unique power in removing our own preconceived ideas and giving us fresh eyes to rethink our values and society.


M.T. has demonstrated that ability in books like
Feed, Landscape with Invisible Hand,
and even his historical fiction duology
Octavian Nothing
. But to realize the power of the genres, he had to overcome the stigma that sci-fi and fantasy were inferior to traditional realism, or as he calls it, "New York realism."
For his reading challenge, Hometown Lore, M.T. challenges readers to find the magic and weird stories hidden in their hometowns. Reading challenges from other author guests are always available at
thereadingculturepod.com
.
This episode's Beanstack featured librarian is Iuyana Miller, the media specialist at Young Middle School in Atlanta. Along with being the 2022 Media Specialist of the Year for Atlanta Public Schools, she is also
referred to as the "book fairy" by her elementary students. Iyuana shares a story of how she ventured beyond her comfort zone to meet her middle school kids where they are and engage them more than she ever imagined.
Chapter 1 - The Ghost and the Corgi (2:07)
Chapter 2 - The Forest of Massachusetts (4:44)
Chapter 3 - Moominland Midwinter (in winter) (9:46)
Chapter 4 - Building on ruins (16:08)
Chapter 5 - Aliens Make Everything Better (20:18)
Chapter 6 - The truth behind the fantasy (26:37)
Chapter 7 - The magical dog (31:22)
Chapter 8 - Hometown Lore (34:17)
Chapter 9 - Beanstack Featured Librarian (36:05)
Author Reading Challenge
Download the free reading challenge worksheet, or view the challenge materials on our helpdesk.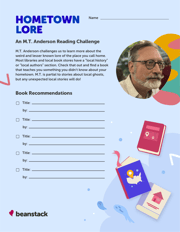 .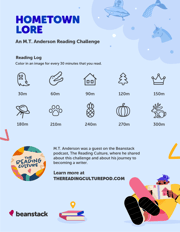 Links: