About this episode
Nic Stone (Dear Martin, Clean Getaway) talks about her passion for speaking out and giving a voice to the stories less told.
"I find that throughout the course of life, I'm bothered by things and when I sat down and I decided I wanted to start writing, what I started writing was something that bothered me." - Nic Stone

After Nic Stone graduated college, she went on a trip to Bethlehem to connect with the story behind her faith. But instead of a religious experience, she found herself moved by the stories of the people who live in the city in the present day. Stories that she decided also needed telling.
In this episode, Nic joins us to share more about how she found her voice and why she tells the stories she does. She'll speak about the importance of connecting with kids to understand their perspective on life and stories, and why despite being fearful of backlash over the release of her most recent book, she is still optimistic about the future of the book-banning crisis in America.
Chapter 1 - Little Nic, the liar
Chapter 2 - The lead coat
Chapter 3 - The story we really need
Chapter 4 - The Picture of Dorian Gray
Chapter 5 - What kids want
Chapter 6 - Visiting Jabari
Chapter 7 - What about breakfast?
Chapter 8 - How to Be a (Young) Antiracist
Chapter 9 - Dear whom?
Chapter 10 - Mirror, Mirror
Chapter 11- Beanstack Featured Librarian
Nic's Reading Challenge
Download the free reading challenge worksheet, or view the challenge materials on our helpdesk.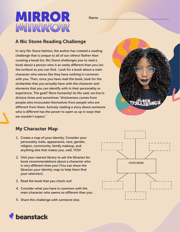 .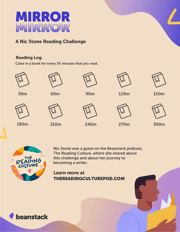 Links: