About this episode
In this episode, author-illustrator Shadra Strickland takes us through the important artistic influences and moments in her life that led her to this debut solo picture book. She shares the elements of art that stand out to her and how she applies them to her work, and we also discuss the rise and ethics of AI art.
"I remember everything was so shiny. Like the way that Pat illustrated that book, everything glistened, and main characters were Black and that was really cool for me. It was so colorful. I just wanted to live in that world." - Shadra Strickland on "Clouds" by Pat Cummings

One of Shadra Strickland's earliest memories is drawing underneath her grandma's table. From a young age, she had a visual, creative mind. As the daughter of an English teacher, she was an avid reader, and words were important, but it was picture book illustrations that opened her up to a whole new side of storytelling. With a love for drawing from a young age, Shadra soaked up every color and every shape in those books. As an adult, she has pursued a career in illustrating children's literature and has earned many accolades.
But throughout her experiences illustrating other authors' stories, a storyteller within her began to emerge, and in 2023 she made the leap to author-illustrator with "Jump In!".
This episode's Beanstack featured librarian is Jen Siderius, the media specialist at New Market Elementary School in Maryland. She shares a heartwarming story about the value of making different book formats available to students and families.
As with all episodes, our author guest creates a unique reading challenge available on Beanstack and at
thereadingculturepod.com/shadra-strickland
. Listen to the episode to learn more about Shadra's challenge, Move It!
Chapter 1 - Newspaper Clippings (2:33)
Chapter 2 - The Allure of Clouds (6:46)
Chapter 3 - Come on, Rain! (12:32)
Chapter 4 - Jumping in to Jump In! (17:28)
Chapter 5 - Out-hustling the Robots (25:36)
Chapter 6 - Doin' the double-dutch (27:56)
Chapter 7 - What's next? (30:58)
Chapter 8 - Move It! (34:04)
Chapter 9 - Beanstack Featured Librarian (35:05)
Author Reading Challenge
Download the free reading challenge worksheet, or view the challenge materials on our helpdesk.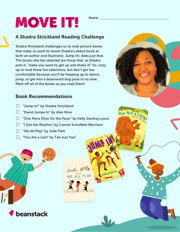 .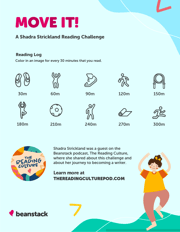 Links: