About this episode
Varian Johnson (Playing The Cards You're Dealt, The Parker Inheritance) talks about the importance of diversity extending beyond the pages of children's literature and the significance of the reader-author relationship.
"I think it's really important that readers see the people behind the book: the authors, the illustrators, the librarians, the teachers, the folks in publicity and marketing. Obviously, a young reader won't see all of that, it's just important to know that the people behind the book are people of color or look like you. That's just taking diversity and inclusion and equity to another level." - Varian Johnson
As a kid, Varian Johnson always felt connected to authors. Beverly Cleary and Judy Blume were among his early favorites. He would even write letters to Blume. But those connections were unmatched compared to Walter Dean Myers. In reading Walter Dean Myers, Varian Johnson saw himself reflected in both the characters on the pages and in the author himself.

That relationship between the reader and author is something Varian values a great deal. Now, as an adult and author, Varian takes his role in that relationship seriously. He knows the responsibility it entails in the messages he shares and how he inspires his own readers. He joins to talk about that relationship and what it means for young readers to see themselves beyond the pages.
Contents
Chapter 1 - Varian as a Young Reader (2:36)
Chapter 2 - If You Come Softly (8:57)
Chapter 3 - Connecting with the Reader (11:54)
Chapter 4 - Writing as a Black Author (15:03)
Chapter 5 - The Author's Role in Shaping Kids' Minds (17:26)
Chapter 6 - Varian's Favorite School Visits (19:59)
Chapter 7 - Addressing Toxic Masculinity in "Playing The Cards You're Dealt" (23:01)
Chapter 8 - "Drawing in Color" (27:51)
Chapter 9 - Beanstack Featured Librarian (29:08)
Varian's Reading Challenge
Download the free reading challenge worksheet, or view the challenge materials on our helpdesk.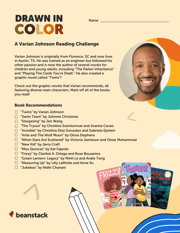 .
Links: