About this episode
Author-illustrator Victoria Jamieson ("When Stars Are Scattered," "All's Faire in Middle School," "Roller Girl") talks to us about why she loves illustrations in literature, authors that inspired her, and how a dream job rejection inspired her first book.
"I think there's so much you can do. It's so rich because you have words, you have pictures. Sometimes they say the same things, sometimes they say opposite things. There's such an interplay between the two that I feel like there's so many possibilities." - Victoria Jamieson

Victoria Jamieson was always an introverted child, but a move across states in middle school pushed her further inward and made her grasp for familiarity. She quickly found comfort in the local library after her mother became the regular host of their summer reading program. While Victoria was an avid reader, burning through Ramona Quimby stories, she also found herself deeply interested in the Sunday comics in newspapers, and eventually comics such as Calvin and Hobbes.

This lifelong interest in artwork and storytelling would inspire her own career as an author-illustrator. But as Victoria discovered an additional gap in the comic industry for middle-grade literature, she was influenced to take a shot at writing her own graphic novel.
This episode's Beanstack featured librarian is John Henry Evans, a school librarian at Walter T. Helms Middle School at West Contra Costa Unified School District in California. Today, John Henry shares a moving story about a student, a book, and an unexpected post-it note.
Chapter 1 - Owner of the library
Chapter 2 - Ramona and Beezus

Chapter 3 - From Ramona to Rollergirl

Chapter 4 - Astrid, The Likable
Chapter 5 - The allure of Lego manuals

Chapter 6 - Omar's Story
Chapter 7 - Warm Welcomes

Chapter 8 - Reading Challenge
Chapter 9 - Beanstack Featured Librarian
Author Reading Challenge
Download the free reading challenge worksheet, or view the challenge materials on our helpdesk.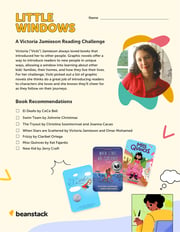 .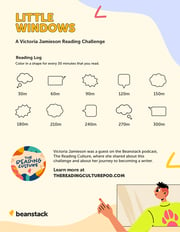 Links: