About this episode
In this episode, Yuyi explores her experience as an immigrant to the United States and her "constant immigrant journey" now that she is living and creating in Mexico. She opens up about everything from how her stories helped quell her homesickness to the inspiration for her more recent picture books. She shares an incredible story about how one book completely changed her perspective on reading and made her a reader. We discuss magical realism, and Yuyi's secret to finding joy in every crevice of life, no matter the starting point.
"It is through these books and through this work that I'm doing that I hope that I can be a worthy companion of [children's] journeys, because they have a lot of journeys to go through, and there is nothing more difficult than going through those journeys alone." - Yuyi Morales
Growing up in Mexico in the 60s and 70s, Yuyi Morales wasn't familiar with children's books. Instead, she was surrounded by a family of vibrant storytellers, and a mother whose creative side was brought out through her passion to make anything and everything needed around the house. As an adult, Yuyi found herself living in America and learning English, through which she discovered and fell in love with children's books. A Caldecott Honor recipient and Pura Belpré Award winner, today, Yuyi merges her youth and experience in America to create magical, colorful, and entirely original picture books.
For her reading challenge,
Migration Stories
,
Yuyi challenges us to think about the reasons why people and animals migrate. She offers a list of picture books about people and animals alike, moving from one place to another.
This episode's Beanstack featured librarian is Pam Hamlin, the family literacy specialist at Prince George's County Memorial Library System in Maryland. Pam was one of the very first librarians I ever worked with, and she is amazing! She shares a message for parents and teachers of young children.
Chapter 1 - The Blue Elephant (2:46)
Chapter 2 - Baby on the Roof (8:09)
Chapter 3 - El Ahogado Más Hermoso del Mundo (11:01)
Chapter 4 - From Mexico to the United States, and back again (20:38)
Chapter 5 - Dreamers (24:34)
Chapter 6 - The Secret to Joy (32:23)
Chapter 7 - Migration Stories (35:46)
Chapter 8 - Beanstack Featured Librarian (37:29)
Author Reading Challenge
Download the free reading challenge worksheet, or view the challenge materials on our helpdesk.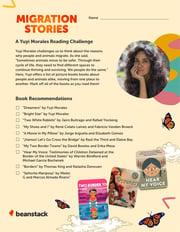 .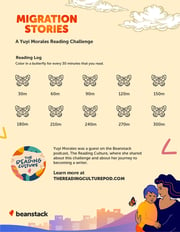 Links: