About this episode
Zetta Elliott (Dragons in a Bag series) shares how her experience growing up Black in suburban Canada impacted her reading, and ultimately her writing voice. She'll tell us about discovering her heritage, finding her voice and disrupting the world of children's literature.
"When you're a kid, and if you love to read, you love stories, you aren't always aware of the fact that you're being erased from those stories, or you don't yet have the expectation that you should be in those books." - Zetta Elliott
Zetta Elliott knows the damage being left out of the stories you consume as a kid can have. Growing up Black in suburban Canada in the 80s meant rarely having the opportunity to see herself in her reading. It wasn't until she was a young adult that she realized this erasure's impact on her own voice as a writer.
While she is best known for her Dragons in a Bag series, Elliott has had a full career fighting for fairness and representation in children's literature. She tells us about how she found and reclaimed her voice and her struggles with publishing as a Black author.
Contents
Chapter 1 - Getting to Know Zetta Elliott (2:02)
Chapter 2 - Being Left Out of Literature (5:50)
Chapter 3 - Zetta Finds Her Voice (10:46)
Chapter 4 - Won't You Celebrate With Me? (14:49)
Chapter 5 - Self-Publishing (18:03)
Chapter 6 - The Future Depends on Now (23:15)
Chapter 7 - Beanstack Featured Librarian (27:10)
Zetta's Reading Challenge
Download the free reading challenge worksheet, or view the challenge materials on our helpdesk.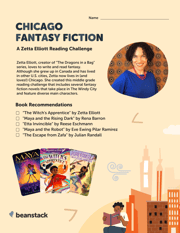 .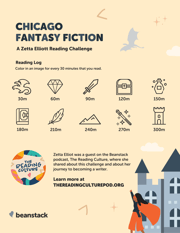 Links: